What Are the 2020 Nissan Versa MPG Ratings?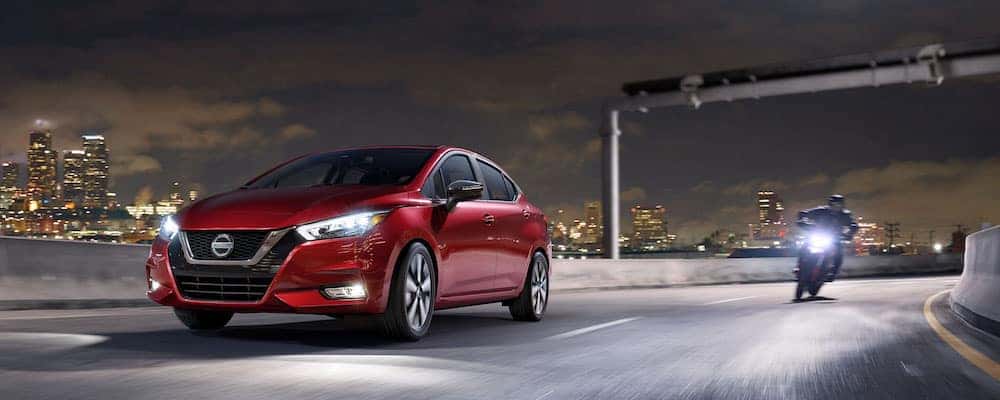 Are you looking for a fuel-efficient sedan for sale near Farmington? The 2020 Nissan Versa mpg ratings make it a top pick. Offered with front-wheel drive and an available CVT, the new Nissan Versa prioritizes fuel economy from the start. No matter which trim you choose, you'll enjoy the peace of mind that comes with not always having to stick close to a gas pump. Explore the Versa trim levels and their mpg ratings below!
Nissan Versa Gas Mileage by Trim Level
When equipped with the Xtronic CVT®, the 2020 Nissan Versa earns similar mpg ratings regardless of the trim level. Here's a quick breakdown of each configuration's mpg ratings for your reference:
2020 Nissan Versa S w/ 5-Speed Manual: 27 mpg city/35 mpg highway*
2020 Nissan Versa S w/ Xtronic CVT®: 32 mpg city/40 mpg highway*
2020 Nissan Versa SV w/ Xtronic CVT®: 32 mpg city/40 mpg highway*
2020 Nissan Versa SR w/ Xtronic CVT®: 32 mpg city/40 mpg highway*
Nissan Versa Performance Features
The 2020 Nissan Versa sedan's impressive mpg ratings aren't the product of its engine alone; it offers a range of features that help improve its efficiency. Learn more about these features, including the engine, below.
Engine: The Versa comes equipped with a 1.6-liter DOHC 16-valve 4-cylinder engine that produces 122 hp and 114 lb-ft of torque. Developed by Nissan, the Continuous Variable Valve Timing Control System (CVVTCS) helps harmonize performance and fuel economy.
Transmission: Cortez drivers can choose between two transmission options: a 5-speed manual or an Xtronic CVT® (Continuously Variable Transmission). The CVT offers even higher fuel economy, further slashing gas prices and making your commutes even more efficient.
Drivetrain Options: The standard and only drivetrain for the Nissan Versa is front-wheel drive.
Drag Coefficient: The S w/ Xtronic CVT®, SV, and SR models have a low drag coefficient of 0.288. The lower the drag coefficient, the lower the fuel usage.
Learn More About the Nissan Versa Mileage at Nissan of Durango!
As you can see from the 2020 Nissan Versa mpg ratings, this compact sedan is a great choice for hitting the roads of Mancos in confidence. Contact us to schedule a test drive at Nissan of Durango and to get behind the wheel. Before you schedule, be sure to check out our current specials for offers on a new Nissan!
Learn More at Nissan of Durango
Nissan of Durango wants to wish everyone in the Durango area a Happy Valentines day! We'll be celebrating the community we love all month long with the great deals you've come to expect from us year round. Plus, on February 20th, we encourage everyone to extend that loving feeling to your furry friends and celebrate National Love…

Are you looking for a fuel-efficient sedan for sale near Farmington? The 2020 Nissan Versa mpg ratings make it a top pick. Offered with front-wheel drive and an available CVT, the new Nissan Versa prioritizes fuel economy from the start. No matter which trim you choose, you'll enjoy the peace of mind that comes with…

If you're looking for an efficient SUV that doesn't skimp out on capability, the 2020 Nissan Rogue checks all your boxes. Our team will help you learn more about Nissan Rogue MPG specs so you can see how it can help you transform your everyday drives in Aztec and beyond. Contact us if you have…