Nissan Altima Reviews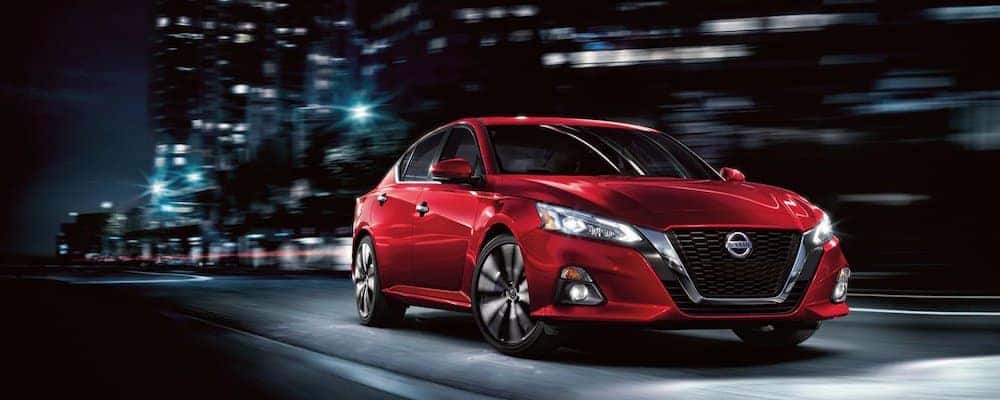 The 2020 Nissan Altima has received numerous accolades from auto industry experts. Starting at an MSRP of only $24,100, the Nissan Altima is a powerful, capable, and sporty sedan. With an AWD option, this midsize sedan provides everything Durango drivers want and need to take their commute to Farmington to the next level. Read the reviews about the 2020 Nissan Altima below, then contact us at Nissan of Durango if you want more information.
Nissan Altima Reliability Reviews
The 2020 Nissan Altima is renowned for its design, comfort, and AWD capabilities. But don't take our name for it. Read some of the reviews on the Nissan Altima below:
Kelley Blue Book: The experts at Kelly Blue Book say, "The Altima is satisfying to drive. The steering wheel is a delight to hold in your hands, and it responds with precision to input. Likewise, the brakes prove effective and supply perfect pedal feel and modulation. The Altima is remarkably quiet in the city and suburbs, too. But the real stars of this car's driving dynamics are two brake-based technologies that improve the Altima's ride and handling. Active Ride Control helps to smooth out the holes, cracks, and bumps in the road, and it soaks up speed humps with ease. Intelligent Trace Control provides brake-induced torque vectoring to keep the Altima on the intended path of travel."
Edmunds: According to Edmunds, "Nissan's midsizer has long lingered in the shadows of the big sellers from Honda and Toyota. But the 2020 Nissan Altima reasserts itself with improved performance, sophisticated technology, and impressive comfort…Tighter lines and dimensions, as well as a larger grille ,give today's Altima undeniable personality…The controls are within easy reach, and the seats remain some of the best in the business."
Car and Driver: Car and Driver raves about the Altima, saying, "The 2020 Nissan Altima is a stylish mid-size sedan with the comfort and features that families want as well as exclusive content they can't get elsewhere. Along with a spacious cabin and contemporary tech, the Altima is the only sedan in its class with optional all-wheel drive. Nissan also provides a cutting-edge engine called VC-Turbo that attempts to maximize fuel efficiency and performance."
It's obvious that the Nissan Altima reliability and the Nissan Altima SL reviews give it well-deserved kudos for its remarkable interior room, safety, performance, and features. Check out some of the reviews of real Nissan Altima car buyers at cars.com!
Nissan Altima Safety Features
Nissan of Durango knows that safety is top priority to Cortez drivers. Fortunately, the Nissan Altima delivers! The 2020 Nissan Altima is a 2020 IIHS top safety pick and earns it 5/5 stars for safety with the NHTSA. With the Nissan Safety Shield® 360, the Altima has standard safety on every side of the sedan. Just look at these available safety features offered on the Nissan Altima:
Intelligent Lane Intervention
Intelligent Forward Collision Warning
Rear Cross-Traffic Alert
Rear Automatic Braking
Automatic Emergency Braking
Blind Spot Warning
Learn More About The Nissan Altima From Nissan of Durango
Now that you've read up on the Nissan Altima SL reviews and about the Nissan Altima reliability, if you want to know more, contact Nissan of Durango near Mancos. You can browse our extensive inventory of new Nissan Altima models online. You can even apply for financing online. Review our new vehicle specials and give us a call today!
Need more capability for your Pagosa Springs to-do's? Be sure to learn more about Nissan Titan towing capacity.
More From Nissan of Durango
Whether you're a weekend warrior or a workday hero, you need a pickup truck that can keep up with your pace. You already know that Nissan makes some of the finest premium sports cars, SUVs, and more, so they're sure to make some of the finest pickup trucks for sale in Farmington. Are you curious…

The 2020 Nissan Altima has received numerous accolades from auto industry experts. Starting at an MSRP of only $24,100, the Nissan Altima is a powerful, capable, and sporty sedan. With an AWD option, this midsize sedan provides everything Durango drivers want and need to take their commute to Farmington to the next level. Read the reviews about…

Nissan of Durango wants to wish everyone in the Durango area a Happy Valentines day! We'll be celebrating the community we love all month long with the great deals you've come to expect from us year round. Plus, on February 20th, we encourage everyone to extend that loving feeling to your furry friends and celebrate National Love…