Safety Features You and Your Family Can Count On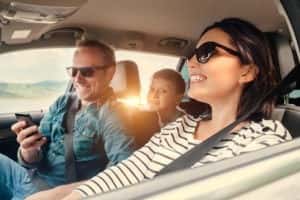 Everyone wants a safe vehicle.
When it comes to your personal or family vehicle, making sure you have abundant and trustworthy safety features is usually one of your top priorities when purchasing a car. Whether it's your commute to work or taking the family to soccer practice, ensuring your personal safety and the safety of your passengers is taken very seriously here at Nissan of Durango. We believe you should be getting into your car with confidence, knowing that our time, research, and advanced technologies will make sure to help you get to your destination safely. We have constructed an extensive approach called Nissan Safety Shield Technologies, which consists of three focus areas: monitor, respond and protect. Each one of these components works together to guarantee one of the safest approaches to construction in the motor vehicle industry. But you might be wondering exactly what these safety features are? Let us break them down for you!
The Power of Continuous Monitoring
Our monitoring technologies look at the current conditions present in and around your vehicle, as well as assisting with predicting possible accident scenarios. Many of these warnings and detections are presented clearly in the driver's view or on our Advanced Drive-Assist Display. There are almost a dozen technology features in this category alone, including blind spot detection and warning. This feature warns the driver when another vehicle is in what is considered the blind spot while driving. Our monitoring technology also includes a series of several cameras that are installed to provide you with a full 360-degree view of the surroundings of your vehicle. This can be extremely beneficial when parallel parking, and it also notifies you when a moving object is detected in the vicinity. Nissan of Durango's technologies also includes monitoring the tire pressure of your tires, as well as observing your driving patterns to determine if you might be getting tired. If this system detects consistent swerving in your driving, it suggests taking a break. If you are interested in learning more about the other monitoring features, you can read the full article here.
Nissan's Proactive Response System
In the response department of our safety technologies, these features assist in helping you avoid a potentially harmful situation as you commute to your next destination. We have maintained several traction technologies including Vehicle Dynamic Control and Traction Control System. These focus on steering direction and assist in reducing the amount of spinning on your wheels in low traction situations, such as icy roads.
The brakes on your vehicle are without a doubt one of the most critical components, so our focus on responsive breaks is very important to the success of our vehicles. Our Anti-Locking Braking System helps maintain steering control when braking, and our Brake Assist helps ensure maximum braking force if it senses that the situation needs it. Our vehicles also feature Electronic Brake Force Distribution, which is very beneficial if you have extra weight towards the back of your vehicle. This advanced technology distributes extra force to the rear brakes in heavier rear end situations. Along with smart system technology in your steering and brakes, our vehicles also have adaptive headlights, which come in handy when traveling in those tricky transition times before sunrise and after sunset.
Nissan Puts Protection First
Unfortunately, despite every effort to avoid them, untimely collisions can still occur. We know how scary and uncomfortable situations like this can be to the passengers of the vehicles involved, which is why we install advanced technology to help ensure the safety of everyone in the vehicle. These technologies include advanced air bag systems which adjust inflation levels based off of the severity of the crash and seat belt usage. We also feature Active Head Restraints, which help reduce the chance of whiplash in an accident by moving up and forward in specific collisions that occur on the rear end of the vehicle.
And for those who are carrying the most precious cargo of all, their children, we have dedicated a large chunk of time researching child restraints. As a result, we have compiled the ultimate guide to choosing the perfect child restraint for your family and the model of Nissan car you own. You can find the guide here and feel confident when purchasing your next child restraint.
The safety features of your vehicle should always be considered as a top priority, especially for those that have multiple passengers. At Nissan of Durango, we care deeply about the safety of you and your family which is why we are heavily focused on making sure our safety elements are top of the line in all of our vehicles.
Sources: